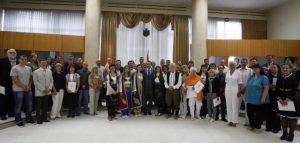 Deputy Prime Minister of the Republic of Serbia and Minister of Foreign and Domestic Trade and Telecommunications Rasim Ljajić has assessed today that we should have a milestone when it comes to the attitude of the government towards the old crafts since in that field Serbia has a lot to offer.
At the ceremony of giving grants for 45 economic entities in the field of old crafts in the Palace of Serbia, Mr Ljajić has emphasized that it is an occasion for underlying once again the significance of traditional crafts in our country.
He has repeated that the Ministry of Foreign and Domestic Trade, and Telecommunications has allocated 15.750.000 dinars for supporting old crafts, while values of individual stimulations are from 100 thousand to 500 thousand dinars.
"We are talking about modest funds, but we do believe that they will help many, especially in the period of the economic crisis", says Deputy Prime Minister.